Main content starts here, tab to start navigating
Fundraisers
Strike up Big Dollars for your Non-Profit Organization, Charity or next Benefit.
The items listed in detail below are just a sampling of what fund raising options are available. Call us today with your idea or goal and we will work with you to get the option available.
If your organization (School, 501c Charity, Sports Team, Religious Organization, etc.) needs to raise money, a bowling fundraiser works GREAT!
It's simple, just sell a "lane" for a tax deductible contribution of $100, $250, $500 or $1,000 to another group who then send six guests to this very special party. Family Game Night with the kids beats a cold car wash or that soggy hoagie sale.
Example 1: Striking up FUNd'$ for a Cause
Complimentary unlimited bowling with shoe rental for 3 hrs.
(Time selections based on date and lane availability.)
Buffet dinner available for 2 hrs. with the following selections of your choice:
(Buffet Is served 30 mins after start of event and closed 30 mins prior)
Meatballs served with Marinara or Honey BBQ or Grilled Chicken, served with fresh rolls.
Penne Pasta served with Marinara or Vodka Sauce
Caesar or Garden Salad w/dressing accompaniments.
(CASH BAR—BEVERAGES ARE NOT INCLUDED IN PACKAGE PRICE)
* UNLIMITED SOFT DRINKS & BOTTLED WATER FOR AN ADDITIONAL $5 PER PERSON*
MINIMUM REQUIREMENT OF 50 GUESTS, ALL GUESTS ATTENDING MUST PURCHASE A TICKET.
(May increase with adequate notice)
$15.99 per guest ticket ** Sunday-Thursday with time choices of 11 am, 3 pm and 7 pm.
Individual Quotes per guest are available for events Friday & Saturday contact our Events Team.
Reservations Sunday-Thursday would require a $300 non-refundable deposit at time of reservation. Final guests count is required no later then 30 days prior to event. Additional guests added are subject to availability. All guests in attendance would require ticket to attend, this includes non-bowlers. Suggested selling price for tickets is $30-$35 or more per guest.
Bonus options available.
Ticket sales of 500 or more the Table Game Room will be included at no extra charge, in addition to a 4th hour of bowling.
Sorry, it can't be avoided but, yes there is fine print.
*Please note wait staff gratuity is not included in the package price and added at 20% per ticket. Which will be added to the final event bill.
*TAX EXEMPT PAPERWORK MUST BE PROVIDED UPON BOOKING IN ORDER TO RECEIVE SALES TAX EXEMPTION & PACKAGE PRICING*
**ALL DATES & TIMES SUBJECT TO AVAILABILITY; PREMIUM DATES & TIMES MAY REQUIRE ADDITIONAL PRICE UP-CHARGE**
**Basket Auctions, Raffles, Silent Auctions and 50/50 require NJ State as well as Cherry Hill Twp. License. **
Example 2: 50/50 Bowling & Pizza Party
This is an ideal option for any school, religious organization, sports team
or charity event raise $1000 or more in just 2 hours.
Each potential bowler purchases a ticket for $10-$15 to attend.
The party would include:
2 hours of unlimited bowling for up to 6 guests
Complimentary Use of Bowling Shoes
1 Cheese Pizza and unlimited soft drinks per lane
Future Bowl Laser Light Show (based upon availability)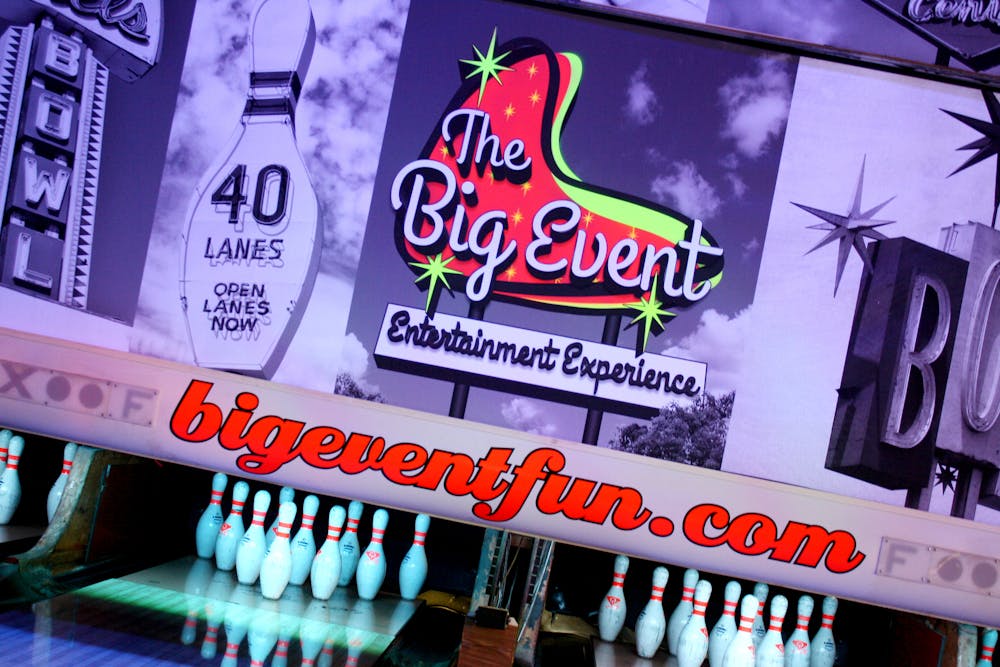 Example 3: Celebrity Bowling
Your group may be able to hire a local celebrity (Sports Star, Local News, Popular DJ, A well known local hero) to bowl with you on the day of your event. Each person who attends the event would pay a fee ($25) to bowl with this celebrity.

The party would include:
Balloons
Host / Hostess
2 hours of bowling
Complimentary Use of Bowling Shoes
Prizes
DJ
Future Bowl Laser Light Show (based upon availability)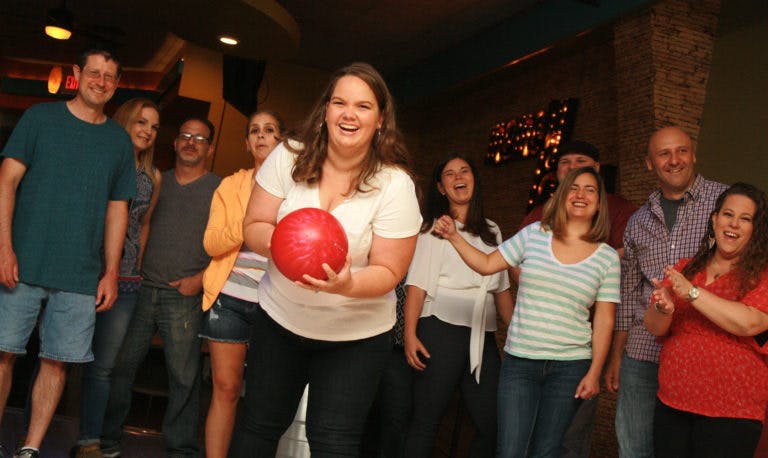 Ready to start earning money! Contact The Big Event to start
Earning money for your school or non-profit today!
Maggie Parker
Events Director
856-429-BOWL