Main content starts here, tab to start navigating
Enroll and Start Earning!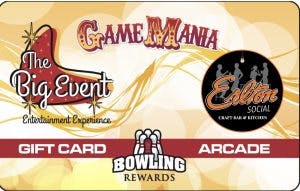 Earn 10% of all your open bowling purchases back immediately in the Big Event Rewards Dollars program.
Visit Reward Dollars for Mobile Devices
Here's how it works:
1.) Visit the Big Event and get your Rewards Dollars card
2.) Register your card at the Guest Services or activate online.
3.) Start playing! Be sure to show your card to earn credits and bonuses!
4.) Check your Rewards for benefits weekly
5.) Check your email for new rewards benefits added weekly
Member Only Discounts & Specials, Exclusive Email Discounts & Offers
Earn 10% back on purchases.
2x, 3x or 4x Bonus Percentage Days
Don't forget to show us your card!